Dr. Nicolas F. Arredondo
Board certified Neurosurgeon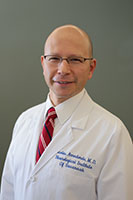 Dr. Nicolas F. Arredondo is a board certified neurosurgeon with expertise and a special interest in complex and minimally invasive spinal and cranial surgery. He treats tumors of the brain and spine as well as degenerative diseases and deformities of the spine.
After earning his undergraduate degree at Stanford University, Dr. Arredondo earned his medical degree at the University of Texas. He completed his internship and residency in neurosurgery at the University of South Florida (USF). There he served as Chief Resident in 2008-2009. During his training at USF he completed a fellowship in neuro-oncology at the Moffitt Cancer Center. Following training he worked at the Providence St. Mary Neuroscience Institute in Washington State, where he served as the Director. He joined the Neurological Insitute of Savannah in 2013.
Dr. Arredondo is a member of the American Association of Neurological Surgeons, the Congress of Neurological Surgery, the Georgia Neurosurgical Society, the Southern Neurosurgical Society, the Society for Minimally Invasive Spine Surgery, and the Society for Lateral Access Surgery. He has authored several scientific articles as well as book chapters.
His practice is based at the Neurological & Spine Institute's office in Savannah, Georgia. He also has a satellite clinic in South Carolina. He is fluent in both English and Spanish.