Dr. Willard Thompson is a board-certified physician at the Neurological Institute of Savannah and Center for Spine. Dr. Thompson is fellowship trained in pediatric neurosurgery. With extensive training and experience in the specialty of neurosurgery, Dr. Thompson is a top-choice pick for neurological surgery.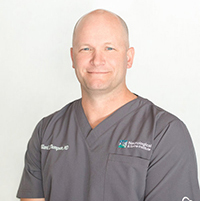 During his undergraduate years at Clemson University in South Carolina, Dr. Thompson was a member of the American Institute of Chemical Engineers and was employed by the Westinghouse Nuclear Fuel Division. After receiving a Bachelor of Science in chemical engineering and graduating with honors from Clemson, Dr. Thompson received his medical degree from the Medical University of South Carolina. Throughout his time in academia, Dr. Thompson was involved in intramural sports and various medical film productions.
During his residency in neurological surgery at Ohio State Medical Center, Dr. Thompson received the Chairman's Award in surgery and the Children's Hospital Research Foundation Oral Presentation Award. He also did an internship in general surgery at Ohio State Medical Center.
Dr. Thompson subsequently completed a fellowship that focused in pediatric neurological surgery at the University of Texas at Southwestern Medical Center at Dallas Children's Medical Center. A fellowship is the highest level of training available to a physician in the United States.
Dr. Thompson has contributed to the publication of many articles, particularly on the topic of pediatric neurosurgery. He has also given presentations at annual meetings of the Pediatric Neurological Surgery and at the Medical University of South Carolina.
Dr. Thompson enjoys being active in sports, including basketball, football and softball. His interests also include family, kids, philosophy and film production.
Quick navigation links:
About us | Our Physicians: Dr. Kevin Ammar, Dr. Roy Baker, Dr. Randolph Bishop, Dr. Cliff Cannon, Dr. Louis G. Horn, IV, Dr. Jay U. Howington, Dr. James Lindley, Jr., Dr. Daniel Y. Suh, Dr. Willard D. Thompson, Dr. Fremont P. Wirth | Expertise | Resources | Contact Us | Driving directions: Savannah, Statesboro, Bluffton, SC (near Hilton Head Island)
Disclaimer:
The pictures displayed in www.NeurologicalInstitute.com are images of actual patients and employees who have consented to have their picture in this website.
Need more information on health and wellness?

Click here for information on diet, nutrition and health resource books. Learn when to see the doctor and what causes symptoms.

Educational illustrations and content Copyright © 2010 Prizm Development, Inc.
Web design & Copyright 2010 © Prizm Development, Inc.
www.prizmdevelopment.com