Dr. Louis G. Horn is a board-certified neurosurgeon specializing in neurological surgery at Neurological Institute of Savannah.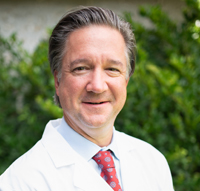 Dr. Horn graduated from Vanderbilt University in 1988. He received his medical degree from the University of Alabama School of Medicine in 1992. Dr. Horn completed his internship in the department of surgery at Parkland Memorial Hospital in Dallas, Texas, and received his neurological surgery training through a residency at the University of Texas Southwestern Medical Center, also in Dallas. In 1998, Dr. Horn relocated to Georgia, where he began practicing at the Brain and Spine Center of Southeast Georgia in Brunswick, Georgia.
Dr. Horn authored an article entitled "The Repair of Sphenoidal Encephaloceles." He also developed and delivered a presentation to the Texas Association of Neurosurgeons on invasive pituitary adenomas.
In addition to his interest in medicine, Dr. Horn enjoys staying active in sports, with basketball being one of his favorites.
Quick navigation links:
About us | Our Physicians: Dr. Kevin Ammar, Dr. Roy Baker, Dr. Randolph Bishop, Dr. Cliff Cannon, Dr. Louis G. Horn, IV, Dr. Jay U. Howington, Dr. James Lindley, Jr., Dr. Daniel Y. Suh, Dr. Willard D. Thompson, Dr. Fremont P. Wirth | Expertise | Resources | Contact Us | Driving directions: Savannah, Statesboro, Bluffton, SC (near Hilton Head Island)
Disclaimer:
The pictures displayed in www.NeurologicalInstitute.com are images of actual patients and employees who have consented to have their picture in this website.
Need more information on health and wellness?

Click here for information on diet, nutrition and health resource books. Learn when to see the doctor and what causes symptoms.

Educational illustrations and content Copyright © 2010 Prizm Development, Inc.
Web design & Copyright 2010 © Prizm Development, Inc.
www.prizmdevelopment.com