Dr. Lindley is a board-certified neurosurgeon with vast experience treating back and neck problems at Neurological Institute of Savannah.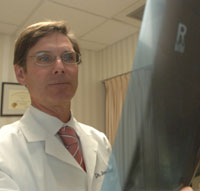 Dr. Lindley attended the Medical University of South Carolina in Charleston, where he graduated with a medical degree in 1984. He then completed an internship in general surgery in 1985 and a residency in neurosurgery in 1990 at the Bowman Gray School for Medicine/Wake Forest University Medical Center in Winston-Salem.
Dr. Lindley is a member of the American Medical Association, the Congress of Neurological Surgeons and the American Association of Neurological Surgeons, as well as other neurological organizations. He has written several published works on topics including meningiomas, intracranial aneurysms, spinal tumors and head injury.
Quick navigation links:
About us | Our Physicians: Dr. Kevin Ammar, Dr. Roy Baker, Dr. Randolph Bishop, Dr. Cliff Cannon, Dr. Louis G. Horn, IV, Dr. Jay U. Howington, Dr. James Lindley, Jr., Dr. Daniel Y. Suh, Dr. Willard D. Thompson, Dr. Fremont P. Wirth | Expertise | Resources | Contact Us | Driving directions: Savannah, Statesboro, Bluffton, SC (near Hilton Head Island)
Disclaimer:
The pictures displayed in www.NeurologicalInstitute.com are images of actual patients and employees who have consented to have their picture in this website.
Need more information on health and wellness?

Click here for information on diet, nutrition and health resource books. Learn when to see the doctor and what causes symptoms.

Educational illustrations and content Copyright © 2010 Prizm Development, Inc.
Web design & Copyright 2010 © Prizm Development, Inc.
www.prizmdevelopment.com