Kevin N. Ammar, M.D.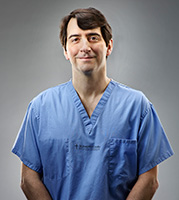 Board certified Neurosurgeon
Kevin Ammar is a board certified, fellowship-trained neurosurgeon who specializes in complex spine and minimally invasive spinal procedures. After completion of his undergraduate studies at the University of Virginia, he pursued his medical education at the University of Florida where he was inducted into the Alpha Omega Alpha medical honor society. He then pursued his neurosurgical residency at the University of Alabama at Birmingham where he served as Chief Resident and met his wife, Kathryn. Following residency, he and Kathryn moved to Los Angeles where he completed a dual neurosurgical / orthopedic fellowship in complex spinal procedures at Cedars-Sinai Medical Center. This included training in complex spinal procedures such as spinal deformity and scoliosis, as well as the latest minimally invasive procedures.
Dr. Ammar specializes in spine and has an interest in complex spine, spinal deformity, spinal tumors, and minimally invasive spine surgery. During his fellowship he helped to pioneer the application of minimally invasive, percutaneous surgical techniques to degenerative scoliosis. He performs thoracic discectomy for spinal cord decompression through a minimally invasive, lateral approach. He has completed special training to gain certification in arthroplasty (the placement of an artificial disc) within the cervical and lumbar spine. His publications have appeared in the periodicals "The Journal of Neurosurgery" and "Neurosurgery.". He is a member of the North American Spine Society, the Congress of Neurological Surgeons, the American Association of Neurological Surgeons, the Southern Neurosurgical Society, and the Georgia Neurosurgical Society. Dr. Ammar is dedicated to utilizing his comprehensive knowledge of contemporary neurosurgical spinal techniques to help patients with spine problems achieve optimal outcomes.
In addition to his interest in spine, Dr. Ammar enjoys general neurosurgery, including peripheral nerve surgery.
His practice is based at the Neurosurgical & Spine Institute's office in Savannah, Georgia. Dr. Ammar also practices at our satellite office in Statesboro, Georgia.