Louis G. Horn IV, M.D.
Board certified Neurosurgeon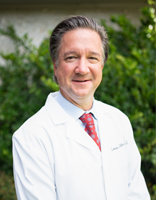 Dr. Louis G. Horn IV is a board certified neurosurgeon specializing in neurological surgery at Neurological & Spine Institute of Savannah.
Dr. Horn IV graduated from Vanderbilt University in 1988. He received his medical degree from the University of Alabama School of Medicine in 1992. Dr. Horn IV completed his internship in the department of surgery at Parkland Memorial Hospital in Dallas, Texas, and received his neurological surgery training through a residency at the University of Texas Southwestern Medical Center, also in Dallas. In 1998, Dr. Horn IV relocated to Georgia, where he began practicing at the Brain and Spine Center of Southeast Georgia in Brunswick, Georgia.
Dr. Horn IV authored an article entitled "The Repair of Sphenoidal Encephaloceles." He also developed and delivered a presentation to the Texas Association of Neurosurgeons on invasive pituitary adenomas.
In addition to his interest in medicine, Dr. Horn IV enjoys staying active in sports, with basketball being one of his favorites.