Jay U. Howington, M.D.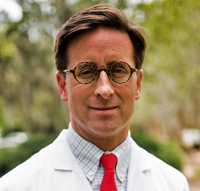 Board certified Neurosurgeon
Dr. Jay Howington is a board certified neurosurgeon with fellowship training in endovascular neurosurgery at Neurosurgical & Spine Institute of Savannah. He grew up in Augusta and, after completing his undergraduate work at Vanderbilt University, Dr. Howington returned home to attend the Medical College of Georgia. After graduating from medical school, he completed an internship in general surgery at Lenox Hill Hospital in New York. Dr. Howington gained his neurosurgical clinical experience at Charity Hospital, Children's Hospital, as well as the Ochsner Clinic as part of his neurosurgical residency at Louisiana State University in New Orleans. While at the Ochsner Clinic, he spent an elective year focusing on vascular and endovascular neurosurgery. After serving as Chief Resident at Charity Hospital, Dr. Howington moved to Buffalo, New York for a two-year fellowship in endovascular neurosurgery under Dr. Nick Hopkins. He moved to Savannah in 2004 and now calls it his home.

During his fellowship, Dr. Howington was involved in multiple interventional neurovascular procedures ranging from carotid artery angioplasty and stenting to acute stroke intervention and the embolization of arteriovenous malformations (AVM), aneurysms and tumors. He also gained exposure to the percutaneous embolization of venous angiomas, balloon test occlusion for cerebral perfusion analysis and intracranial angioplasty and stenting. After arriving in Savannah, Dr. Howington was the first physician to place an FDA-approved carotid stent in the Coastal Empire and is only neurosurgeon in the area that has the ability to treat extracranial carotid disease endovascularly or with open surgery. He currently treats over 100 aneurysms a year.

Dr. Howington has contributed to numerous peer-reviewed articles published in Neurosurgery and The Journal of Neurosurgery as well as various chapters in several textbooks. He is a member of the American Association of Neurological Surgeons, the Congress of Neurological Surgeons, the Cerebrovascular Section of the AANS/CNS, the American Society of Interventional and Therapeutic Neuroradiology, the Southern Neurosurgical Society, and the Georgia Neurosurgical Society. Dr. Howington also teaches courses on endovascular and microsurgical techniques across the United States as well as in Japan and India.

Aside from cerebrovascular disease, Dr. Howington has interest and expertise in the surgical management of brain tumors, pituitary tumors, cervical spine disease, peripheral nerve lesions, and lumbar spine disease.