New Patients
At the Neurosurgical & Spine Institute of Savannah our doctors specialize in conditions and injuries related to the brain and spine. Thank you for choosing us and trusting our team with YOUR care. We promise to provide quality care and cutting-edge treatment options from top doctors and experts in the field, delivered with the compassion you deserve.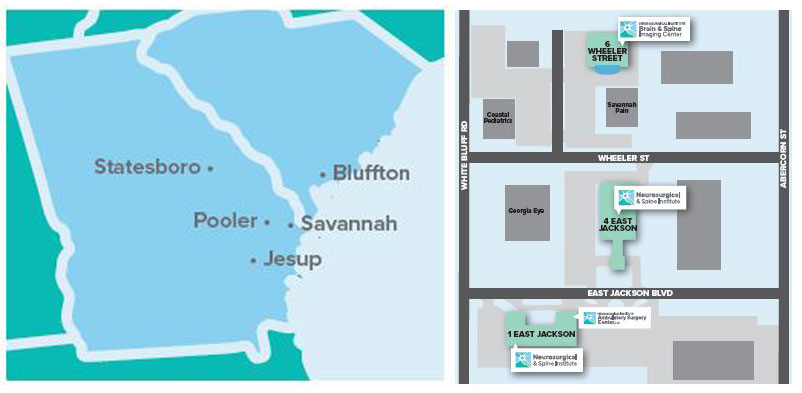 New Patient Packet
Our New Patient Packet is designed to help you prepare for your upcoming appointment. This packet can be fill in and printed to bring with you on the day of your appointment. Patients are also welcome to print as a PDF and email a completed packet to referrals@neurosav.com in advance of their appointment.
Patient Information
Current Medications List

Medical Release Authorization
Treatment & Medication Agreement
PHI & Disclosure Agreement
What To Bring to Your Appointment
Photo identification, such as a driver's license.
A copy of your current insurance card(s)
Any radiology films and CDs (X-rays, CT scans, and MRIs) you have that pertain to your current problem.
A completed copy of your new patient paperwork
A written list of your current medications (including vitamins and supplements) including the dosages you are currently taking
What to Expect – Upon Arrival
Our clinic team aims to set aside enough time to provide each patient with the highest quality care. We will make every effort to schedule your appointments as efficiently as possible. In return, it is your responsibility to keep your scheduled appointments and to arrive at your specified time.
Patients are asked to arrive before their scheduled appointment time as this allows enough
time for the patient to check in and update their records before the actual appointment time. We strongly suggest that new patients arrive 30 minutes before their scheduled appointment time. Established patients should plan to arrive 5-10 minutes before their scheduled appointment time.
Note: A grace period of 10 minutes will be permitted for any unforeseen delays a patient may encounter while travelling to the clinic location for their appointment. If a patient arrives more than 15 minutes late for their scheduled appointment, and cannot be seen by the provider on the same day, they will be rescheduled for the next available opening.
No Show/Late Cancellation Policy
We do realize that unanticipated events can occur and may prevent you from keeping your appointment. We request that you notify our office immediately when you realize you will not be able to keep your appointment as this gives us the ability to accommodate other patients who may be waiting for a neurosurgery consult. A patient who does not show up for a scheduled appointment or does not provide twenty-four (24) hours' notice prior to cancelling an appointment will be charged a $40.00 No Show/Late Cancellation Fee. We require these fees be paid prior to any future appointments.
When you arrive for your appointment, our Patient Services team will be available to guide you through the check in process. In addition to confirming your name and appointment, they will collect any new patient paperwork and scan a copy of your insurance card(s) and photo identification.
They will then provide you with a form that captures your complete health history. This is something you can complete in our guest lounge while waiting for your team's Patient Care Coordinator to call you back for your appointment.
Note: We have multiple providers caring for our patients within the same treatment area; therefore, some patients may be called before others who have been waiting longer because they are seeing a different provider. All patients will be seen in the order they have been scheduled. Patients who arrive before their scheduled appointment time will not be seen early unless there has been a cancellation.
What to Expect – Your Visit
Once your Patient Care Coordinator gets you settled into your exam room, they will take your vitals, review and input your list of current medications, make copies of any films you have brought with you and collect any additional information your provider has requested. Next, they will notify your provider that you have arrived and are ready to be seen.
NOTE: Your first appointment may actually be with your surgeon's designated nurse practitioner or physician's assistant. These advanced care practitioners are highly qualified and trained by our surgeons to assess each patient's individual condition. They are able to order additional tests and prescribe any medications or conservative treatments needed to advance your plan of care.
During your initial visit, your medical history and symptoms will be confirmed. Your provider will then conduct a focused neurological exam and review any test results including related images. Our care team's goal is that you leave with a plan of action in place to assess and treat your condition. This plan may include additional testing or therapies. If your condition requires a surgical procedure, your doctor will talk candidly with you about your treatment options including any benefits and risks.
What to Expect – After Your Visit
Your Patient Care Coordinator will help you arrange for any additional tests or referrals ordered by your provider. While some of these may be able to be conveniently completed within our on-site Brain & Spine Imaging Center, we have a list of area imaging centers patients can choose from depending on their preferences.
Regardless of where you choose to go, most insurances require pre-authorization for more advanced imaging like MRI or CT scans. It can take up to 14 days to secure approval depending on your insurance plan. Our team will likely schedule your CT or MRI with this in mind and will often schedule a follow up appointment to occur the same or next day as your imaging exam.
During the follow up appointment, your doctor will have the additional information needed to further development your treatment plan and talk with you about next steps.
Once you and your doctor have agreed to a treatment plan, it's important to follow your neurosurgeon's instructions to the letter. This will speed your recovery and give you the best possible outcomes. 
Disability and FMLA Forms
If you have disability insurance or are eligible for leave under the Family Medical Leave Act (FMLA), you may drop these forms off at your physician's receptionist.
Completing this paperwork requires additional time and attention to ensure complete and accurate information is provided. This paperwork cannot be billed to your insurance company. Therefore, it is our office policy to charge $25 for the completion of each form.
If the form to be completed is sent to us by an outside organization, we will notify you of the exact amount that is due. We may also request completion of the Authorization to Disclose My Health Information.
Please allow us 7 to 14 business days after receipt of payment to complete these forms. We suggest that you call our office before making a trip to pick-up the completed forms. Alternatively, you may provide a fax number and the forms can be sent for you.