Daniel Y. Suh, Ph.D.,M.D.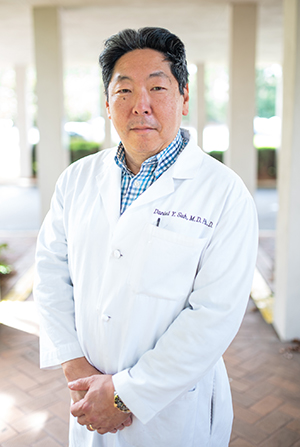 Board certified Neurosurgeon
Dr. Daniel Suh is board certified and specializes in neurosurgery at the Neurosurgical & Spine Institute of Savannah.
Dr. Suh earned his medical degree at the University of Cincinnati College of Medicine. After receiving his medical degree, Dr. Suh completed a residency in general surgery along with a residency in neurosurgery at Emory University School of Medicine in Atlanta, Georgia.
Dr. Suh also holds a Master's degree and a doctorate in clinical psychology from Bowling Green State University. After receiving his Ph.D., Dr. Suh completed an internship in clinical psychology at Oklahoma Health Sciences Center in Oklahoma City.
Dr. Suh is a member of the American Association of Neurological Surgeons, the American Medical Association and the Congress of Neurological Surgeons. He is certified by the National Board of Medical Examiners and the American Board of Neurological Surgery.
His practice is based at the Neurosurgical & Spine Institute's office in Savannah, Georgia. Dr. Suh also practices at our satellite office in Bluffton, South Carolina.