Randolph Bishop, M.D., M.B.A.
Board certified Neurosurgeon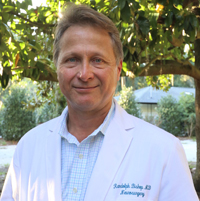 Neurosurgical Interests: Deep Brain Stimulation, Endoscopic Spinal Surgery.
Dr. Bishop has been in the practice of neurological surgery in Savannah, Georgia since 1996. During this time he has performed thousands of neurosurgical procedures involving both cranial and spinal pathologies. Dr. Bishop is an innovator and early adopter of emerging neurosurgical technologies.
Dr. Bishop is part of the neurosurgical team that has introduced numerous neurosurgical "firsts" to the region. This innovative focus has positioned him as one of the principle founders of numerous neurosurgical companies that focus on developing techniques and instrumentation necessary to perform outpatient minimally invasive neurosurgery. He holds patents on spinal implants used in minimally invasive spine surgery that have been used in over 200,000 surgeries. Additionally, Dr. Bishop serves as the medical director of the first and only Neurosurgical Ambulatory Surgery Center in the region which has been the site for over 10,000 outpatient neurosurgical procedures since 2008.
According to Dr. Bishop, "….the next leap in improving our spinal surgery technique may involve using endoscopes to perform spinal surgery…". Endoscopic spinal surgery offers significant advantages over traditional open or minimally invasive surgery. Dr. Bishop and the surgeons at Neurological Institute are the first and only surgeons offering this capability in this region with over 1,000 endoscopic spinal surgeries performed to date.
Dr. Bishop is also the Neurosurgical Director of the Movement Disorder Program. Dr. Bishop surgically manages approximately 200 deep brain stimulator systems and has an active role in the implantation program. Deep Brain Stimulators provide a much needed service to those patients with Parkinson's disease, Essential Tremor, and Dystonia.
Dr. Bishop is board certified in Neurosurgery and Pain Management. He has offices in Statesboro, Jesup, Springfield, and Savannah.