Discography
The procedure | Post-procedure
Discography is an injection technique that is used as part of an evaluation to help determine the specific cause of pain so that a new treatment plan (possibly including surgery) can be developed. The procedure yields key information that is helpful in the diagnosis and treatment processes.
Discography should only be used on patients who have found nonsurgical treatments to be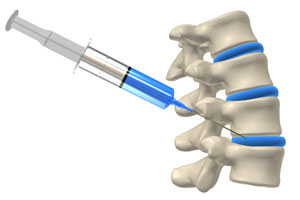 unsuccessful. These patients usually have had back pain for at least 4 to 6 months.
The Procedure
Anesthetic may be used on the skin's surface to help ease any discomfort. Various spinal discs are injected with contrast, a substance that shows up on X-ray. This liquid is placed into the center of the discs. The contrast will stay in the center if it is normal. If a disc is torn, the contrast will spread through the tears in the disc.
As each disc is injected, you may be asked to rate the intensity of the pain that the injection causes, if any, as well as describe the pain. This procedure is repeated for each disc that is injected. Any pain provoked by the injection should be temporary.
CT scanning is often performed after a disc injection because it provides additional information about the exact pattern of the spread of the contrast through or out of the disc. For example, widespread disc degeneration is identified by the contrast spreading throughout the disc space.
The injection procedure generally takes about 30 to 45 minutes.
Post-Procedure
By combining the results of a discogram with results from other tests and physical examinations, it will be easier to determine if the disc(s) is causing your pain. This information may be used to determine if surgery may be beneficial. If so, the results are used to determine the best type of surgery for you and which disc levels may be included in surgery.
[top]